Black Duck Outfitters: Waterfowl Hunting Trips
Maryland Hunting Guides for Sea Ducks, Diving Ducks, Puddle Ducks, Canada Geese, & Sika Deer. Spring Snow Geese in Maryland & Delaware, Spring Turkey in Maryland & Pennsylvania.
Black Duck Outfitters Staff
Captain Todd Sauerwald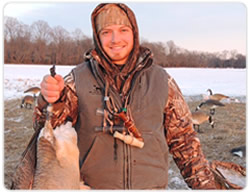 Todd was born and raised on the water in Sparrows Point, Maryland. Todd brings 15 years of waterfowl hunting experience in the state of Maryland to the Black Duck staff. Todd is an avid waterfowl and deer hunter and finds himself hunting on days that he is not guiding. Todd obtained his Captain's License at the early age of 18 and now possesses his 200 Ton Master's Captains License. Todd spends more time on the water in a week then most people do in a lifetime working for a tug boat company in Baltimore's inner harbor moving and parking some of the largest vessels that come into port. Todd's knowledge of the bay and his experience hunting ensure BDO customers will have a remarkable and safe experience.
Captain Nick Horner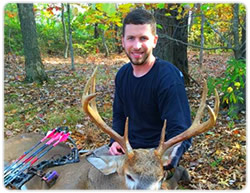 Nick was born and raised in White Marsh, Maryland. He started hunting at the age of 5 with his father, Bill. Upon turning the age of 6, Nick harvested his first deer. While Nick spent a majority whitetail and sika hinting during the fall, he also has an overwhelming love for spring turkey hunting.

Nearly 15 years ago, Nick started hunting ducks and geese on Maryland's eastern shore. Because Nick holds a 50 ton Masters Captain license as well as a commerical crabbing license, his love for waterfowl hunting quickly spread to a sea duck hunting addiction.

Having now graduated from UMBC with a Bachelor's degree in Mechanical Engineering, Nick still holds a genuine passion for the outdoors.
Black Duck Outfitters Snow Removal Staff
Nick Michael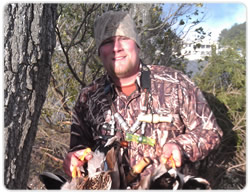 Nick began his hunting career tagging along with his dad at the age of 5 on Maryland's eastern shore. As he got older his passion for the outdoors never stopped growing. Working on a produce farm during the summer leaves plenty of time to hunt during the winter, and he hunts every day of the season. Starting with teal and resident canada's in September and ending with greater snow geese and turkeys in the spring, Nick truly does it all. If you have ever hunted with Nick, you will notice right away that he is an elite waterfowl caller. As much as he loves to hunt ducks and geese, snow goose hunting is his true passion. Nick is absolutely dedicated to putting you in the best possible situation everytime he hunts, and the results won't lie. Countless hours spent scouting, talking with landowners, and planning out each hunt, always pay off in the end!
Mark Blair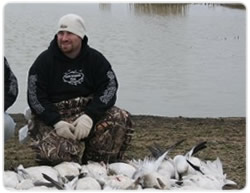 Mark started hunting in his early teens along side his father on the eastern shore of Maryland. Years of hunting on the eastern shore is enough to spark a passion in anyone, and it certainly did in Mark. Mark is now a project manager for a hardscaping company but when hunting season comes around, he spends just about everyday in the field. He has plenty of experience hunting all kinds of ducks and geese in Maryland, but like Nick and Josh his favorite type of hunting is definitely snow goose hunting. When it comes to snow geese, scouting is definitely the most important factor and Mark is on top of it! Over the years he has developed a network of landowners and "scouts" and is always keeping track of the birds. A truly dedicated hunter, Mark will do whatever it takes to ensure a good hunt!
Josh Michael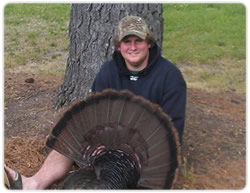 Josh started hunting and fishing at an early age just like his brother. Growing up, he couldn't stand to waste a day indoors and was always in the woods or on the water. Because of this, he developed a strong love for the outdoors. Now a full-time farmer, he always sets aside time to manage his hunting property to provide abundant habitat and food sources for ducks, geese, and deer. Working outside everyday has its advantages and Josh is able to "watch and learn" the habits of the birds in his area. Obsessed is an understatement, as he hunts everday of the season. His favorite type of hunting is also Snow goose hunting. He is willing to go the extra mile everyday, and puts hours of scouting into every hunt. His hard work and determination make for exciting days in the field!
Captain Andy Collins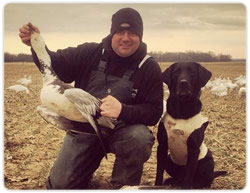 Hunting and fishing on the Eastern Shore of Maryland has been second nature to Andy as this is where he was born and raised. As a Professional Firefighter/EMT his flexible schedule allows him to continue his passion out in the field, whether its scouting for the next hunt or looking down the barrel of a gun, he is even known for spending all of his leave time during the winter months in a blind or a pit. As a native Eastern Shoreman, Andy has developed invaluable relationships with landowners and extensive knowledge of waterfowl migration across the Eastern Shore. Andy begins his season with dove and resident canada's and continues with migratory birds throughout the winter and into spring with the snow goose conservation season. He is an firm believer of teaching the values and skills in hunting on to our future and participates in youth hunting day each year to promote this Eastern Shore tradition. When not in season, Andy spends his time training his black lab Ruger and other retrievers to maintain and enhance their skills used in the field, including participating in AKC Hunt Tests.
Michael Pereira-Ogan
Our Public Relations Man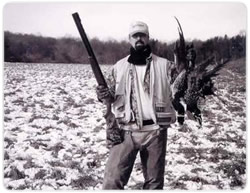 Michael's waterfowling and wingshooting passions have taken him to places all over the U.S. such as Lake St. Clair in Michigan, Reelfoot Lake in Tennessee, The Gulf Coast of Texas, The Historic Chesapeake Bay in Maryland and Virginia, The Barnegat , Delaware, and Great Bays of New Jersey, The outskirts of Las Vegas in Clark County Nevada,  and places beyond such as The Provinces of Entre Rios and Buenos Aires in Argentina. It doesn't stop there, he is passionate about upland game as well, and his next adventure is sending him to North Dakota to help fuel that as he seeks out pheasant, grouse, turkey, sandhill cranes , and waterfowl.

Michael earned his waterfowling stripes hunting small creeks, streams, and farm ponds for ducks and the open fields for Canada geese all around Southeastern Pennsylvania as a young man. His waterfowling passion exploded after his college years hunting the salt marshes of Maryland and New Jersey via boat and self-made blinds. His biggest passion now is the late season open water hunting on big water in search of diving ducks like bluebills, redheads, goldeneyes, and the King of all – Canvasback.

Michael is a proud father of three children all of whom are showing signs of following in his footsteps as a passionate wingshooter. His daughter Allison was lucky enough to bag her first duck this early season and it just happened to be the first duck she ever shot at. Her younger brothers seem eager to join her soon.
Michael helps spread his passion for waterfowling and wingshooting by attending banquets, sport shows, and other venues. His efforts to get our youngsters involved in the outdoors are endless and keep him busy when he's not running his small successful contracting business.

Black Duck Outfitters is proud to have him and his endless energy and passion on our staff. He is always out there spreading his enthusiasm to a sector he considers the most important amongst our outdoor enthusiast ranks "our youth."
Matt Opsahl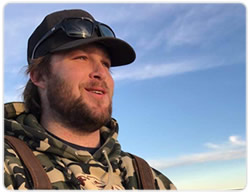 Matt grew up within walking distance of the Potomac River, just outside of DC. Matt began hunting ducks and geese both on the Eastern Shore and on the Potomac River around the age of 10 with his dad and brothers. Matt developed an obsession for puddle ducks and continues to chase them relentlessly. He works tirelessly to get on birds and seems to always be on the "X." Matt is also a member of the Drake Waterfowl Prostaff as well as the Ducklander Calls Prostaff.

Matt graduated from Hobart and William Smith Colleges with a Bachelors Degree in political science. When he isn't working, Matt is on the Potomac River hunting or working with his dog, Maverick.
Feel free to give us a call at

410-336-7078
to arrange you next waterfowl hunting adventure with Black Duck Outfitters.

Black Duck Outfitters is now booking Maryland sea duck, diving duck, puddle duck, Canada goose and snow goose hunts for the upcoming waterfowl hunting season. We also offer spring turkey hunts as well as Sika deer hunting.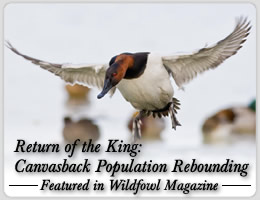 Click Here to read the latest article in Wildfowl Magazine.

Click here to book your hunt early to reserve your dates and make some hunting memories with Black Duck Outfitters.
Click here to view our current hunting rates.