Black Duck Outfitters: Waterfowl Hunting Trips
Maryland Hunting Guides for Sea Ducks, Diving Ducks, Puddle Ducks, Canada Geese, & Sika Deer. Spring Snow Geese in Maryland & Delaware, Spring Turkey in Maryland & Pennsylvania.
Black Duck Outfitters Staff
Captain Dan Houck
Owner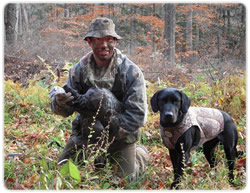 Daniel Houck grew up in Boyertown, Pennsylvania.  Dan's passion for hunting developed as a youngster following his father around small game hunting on their farm and chasing turkeys through the mountains with his late friend Howard Landis.  Dan's passion for hunting was greatly influenced by these two men at a very young age. 

Dan graduated from Williams College in 2002 with a bachelor's degree in economics. Upon moving to Annapolis, Maryland, his passion for waterfowl hunting exploded. He started his waterfowl hunting career in Maryland by throwing a dozen bluebill decoys off a dock on the Wye River.  Now, ten years later he throws dozens of decoys out the side of his twenty-one foot Bankes Goliath custom duck boat as a USCG Master Captain and guiding hunting parties all over the Chesapeake Bay.

Dan's two main passions in life are hunting and the game of ice hockey.  Dan is currently the Director of Player Development for Team Maryland AAA Youth Hockey and owner of Hockey Dynamics Inc.  If you can't find him on his boat then he most likely is on the ice teaching kids the game of ice hockey. 
WHY BLACKDUCK?
"Black Duck's guides operate under the company slogan of 'Our extra mile will never be crowded.'  Black Duck's guides are without question some of the most knowledgeable, down to earth, hardest working, and overall greatest guys you will ever meet.  They are second to none.  We are a team and each one of us brings a unique set of skills and knowledge to the table.  As a group we do our homework and use our collective pool of resources to offer our customers the best experience we can provide.  Our willingness to work is simply at a level second to none." -Dan Houck
Captain Jayson Wilt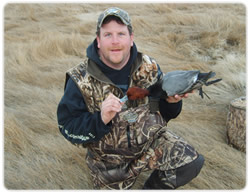 Captain Jayson Wilt began his waterfowling career in 1987 at the age of 12 along the Susquehanna River in Central Pennsylvania and on Maryland's famed Eastern Shore. Even as a young boy Jayson had a great passion for pursuing waterfowl. Jayson has managed to keep waterfowling a year round activity thru contest calling and conservation projects with the Susquehanna River Waterfowlers Association. A path now being followed by his son Dylan Wilt. And now years later he has made it his full time job as the Guide Manager for Black Duck Outfitters. During the off season Jayson spends as much time as possible with his fiancee Becki and their son Dylan, along with chasing spring turkeys in several states each spring.

Jayson starts each season in September chasing resident canada geese and teal in the the Chesapeake Bay region and ends in the spring chasing the northbound migration of snow geese. The time in between is spent six days a week guiding sea duck and diver hunts.
In addition to the Black Duck Outfitters Team, Jayson is currently a member of the Foiles Migrators Gold Staff, Rigem Right Pro Staff and Bigfoot Decoys Pro Staff.
Michael Pereira-Ogan
Our Public Relations Man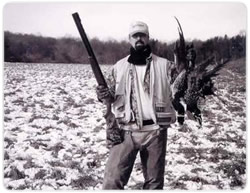 Michael's waterfowling and wingshooting passions have taken him to places all over the U.S. such as Lake St. Clair in Michigan, Reelfoot Lake in Tennessee, The Gulf Coast of Texas, The Historic Chesapeake Bay in Maryland and Virginia, The Barnegat , Delaware, and Great Bays of New Jersey, The outskirts of Las Vegas in Clark County Nevada,  and places beyond such as The Provinces of Entre Rios and Buenos Aires in Argentina. It doesn't stop there, he is passionate about upland game as well, and his next adventure is sending him to North Dakota to help fuel that as he seeks out pheasant, grouse, turkey, sandhill cranes , and waterfowl.

Michael earned his waterfowling stripes hunting small creeks, streams, and farm ponds for ducks and the open fields for Canada geese all around Southeastern Pennsylvania as a young man. His waterfowling passion exploded after his college years hunting the salt marshes of Maryland and New Jersey via boat and self-made blinds. His biggest passion now is the late season open water hunting on big water in search of diving ducks like bluebills, redheads, goldeneyes, and the King of all – Canvasback.

Michael is a proud father of three children all of whom are showing signs of following in his footsteps as a passionate wingshooter. His daughter Allison was lucky enough to bag her first duck this early season and it just happened to be the first duck she ever shot at. Her younger brothers seem eager to join her soon.
Michael helps spread his passion for waterfowling and wingshooting by attending banquets, sport shows, and other venues. His efforts to get our youngsters involved in the outdoors are endless and keep him busy when he's not running his small successful contracting business.

Black Duck Outfitters is proud to have him and his endless energy and passion on our staff. He is always out there spreading his enthusiasm to a sector he considers the most important amongst our outdoor enthusiast ranks "our youth."
Jake Steppe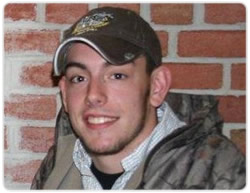 At only 20 years old Jake Steppe has been waterfowling nearly half of his life. Growing up on the famed Eastern Shore of Maryland waterfowl and waterfowl hunting has become a large part of his life. From being a senior at Penn State University studying Wildlife and Fisheries Science to hunting as much as he can fit in to competing in duck and goose calling contests, ducks and geese have a special place in his life. Jake's been calling for Tim Grounds since he was 13 and has since won multiple state duck and goose calling titles, numerous top five finishes, and even taking 2nd place in the WORLD Live Goose calling contest this past year.

Josh Neuwiller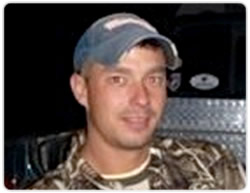 Josh Neuwiller is a 7-time World Goose Calling Champion, having won three consecutive junior world contests and three consecutive senior world contests at the prestigious World Goose Calling Championships in Easton, Maryland. He is also the 1999 Remington International Goose Calling Champion and the 2001 Avery International Champion of Champions. Josh has also won numerous Maryland State Duck and Goose Calling Contests, and in all has won over 40 waterfowl contest calling titles. Additionally, Josh has been working as a waterfowl hunting guide on Maryland's Eastern Shore for over 23 years. During the summers, Josh works as a commercial waterman in the rivers of the Chesapeake Bay, harvesting Chesapeake Bay blue crabs. Josh lives in Greensboro, Maryland, with his wife Nicki, son Tyler (14) and daughters Haley (9) and Kendall (4.) In his spare time, Josh enjoys deer hunting, waterfowl hunting, and fishing with his family.
Captain Todd Sauerwald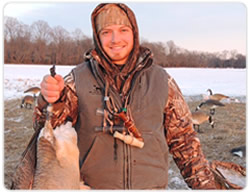 Todd was born and raised on the Chesapeake Bay in Sparrows Point, Maryland. He has been duck hunting since the age of ten immediately after getting his boating license. Hunting divers, sea ducks, geese, and puddle ducks has occupied the majority of his hunting seasons for over 10 years. During the off season Todd finds himself doing anything he can to prepare and better himself for the next upcoming season. Todd possesses his 50 Ton Masters Captains License, which he got at the age of 18! Todd's understanding of the Upper Chesapeake Bay and its tributaries is second to none.
Black Duck Outfitters Snow Removal Staff
Nick Michael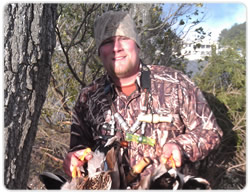 Nick began his hunting career tagging along with his dad at the age of 5 on Maryland's eastern shore. As he got older his passion for the outdoors never stopped growing. Working on a produce farm during the summer leaves plenty of time to hunt during the winter, and he hunts every day of the season. Starting with teal and resident canada's in September and ending with greater snow geese and turkeys in the spring, Nick truly does it all. If you have ever hunted with Nick, you will notice right away that he is an elite waterfowl caller. As much as he loves to hunt ducks and geese, snow goose hunting is his true passion. Nick is absolutely dedicated to putting you in the best possible situation everytime he hunts, and the results won't lie. Countless hours spent scouting, talking with landowners, and planning out each hunt, always pay off in the end!
Mark Blair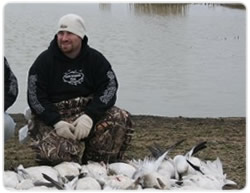 Mark started hunting in his early teens along side his father on the eastern shore of Maryland. Years of hunting on the eastern shore is enough to spark a passion in anyone, and it certainly did in Mark. Mark is now a project manager for a hardscaping company but when hunting season comes around, he spends just about everyday in the field. He has plenty of experience hunting all kinds of ducks and geese in Maryland, but like Nick and Josh his favorite type of hunting is definitely snow goose hunting. When it comes to snow geese, scouting is definitely the most important factor and Mark is on top of it! Over the years he has developed a network of landowners and "scouts" and is always keeping track of the birds. A truly dedicated hunter, Mark will do whatever it takes to ensure a good hunt!
Josh Michael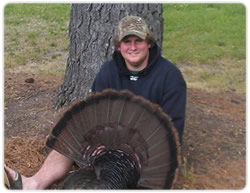 Josh started hunting and fishing at an early age just like his brother. Growing up, he couldn't stand to waste a day indoors and was always in the woods or on the water. Because of this, he developed a strong love for the outdoors. Now a full-time farmer, he always sets aside time to manage his hunting property to provide abundant habitat and food sources for ducks, geese, and deer. Working outside everyday has its advantages and Josh is able to "watch and learn" the habits of the birds in his area. Obsessed is an understatement, as he hunts everday of the season. His favorite type of hunting is also Snow goose hunting. He is willing to go the extra mile everyday, and puts hours of scouting into every hunt. His hard work and determination make for exciting days in the field!
Black Duck Outfitters Staff Retriever
Twin Lakes Les Paul "Riff"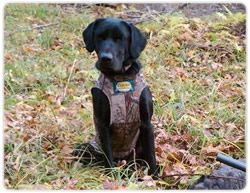 Riff hails from Twin Lakes Kennel in Laurel Hill, North Carolina.  He was professionally trained by world class dog trainer and handler Woody Thurman. Twin Lakes Kennel produces the highest quality of waterfowl hunting dog in the land and Riff is no exception.  "Pick of the litter puppies is overrated.  Let me pick you a dog!" stated Woody when Black Duck owner Dan Houck went to purchase Riff.  
To say the Black Duck family was blessed with a terrific dog is an understatement.  Riff hunts eighty to a hundred days a year, minimum.  His season starts with dove hunting or early resident season geese in September and ends when the final flocks of snow geese depart Pennsylvania in late March/early April. In between September and April Riff chases teal through the marshes of Delaware/Maryland, fall turkey through the woods of Pennsylvania, crippled wood ducks and mallards through the button bush of flooded beaver ponds and oak flats of the Susquehanna River, and braves the tide and current of the Chesapeake Bay for sea ducks and divers. Riff is incredibly well behaved, has great blind manners, and steady to his handler. 
Riff has no titles and never will.  He is built to hunt. He earns his titles everyday in the elements that we hunt.  No hunt test could ever attempt to imitate the conditions and various environments that we hunt in here at Black Duck.  Riff turns 3 this year and some of his best hunting days are ahead of him. He looks forward to spending them with you.
Feel free to give us a call at

877-607-6014
to arrange you next waterfowl hunting adventure with Black Duck Outfitters.

Black Duck Outfitters is now booking Maryland sea duck, diving duck, puddle duck, Canada goose and snow goose hunts for the upcoming waterfowl hunting season. We also offer spring turkey hunts as well as Sika deer hunting.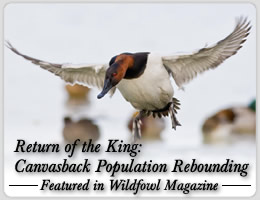 Click Here to read the latest article in Wildfowl Magazine featuring Jayson Wilt.

Click here to book your hunt early to reserve your dates and make some hunting memories with Black Duck Outfitters.
Click here to view our 2012-2013 rates.


How to Contact Black Duck Outfitters

Phone Number:
Toll Free: 877-607-6014
Cell: 717-877-7878

Email:
Captain Jayson Wilt
jayson@blackduckoutfitters.com